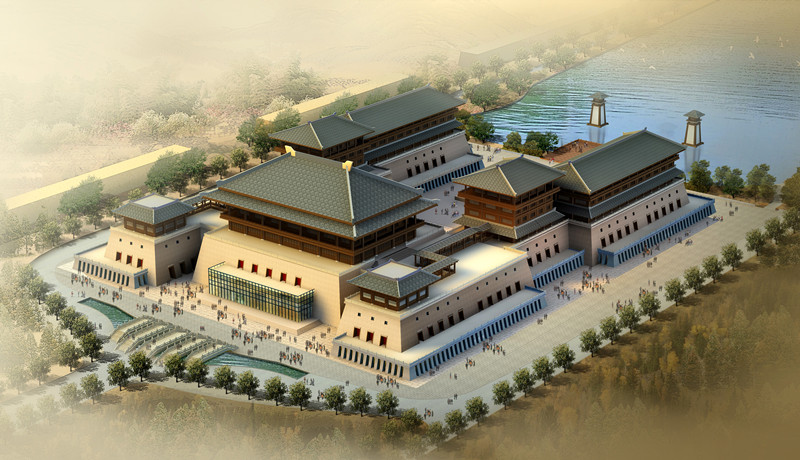 Gates is han changan city walls three doors, one for the west xian door to the east door cladding, Ann gate area of the main scenic spots, by the gates visitors center, the academician courtyard, tea ShangRu bridge, repair,, wooden footway, double deficiency and wharf composition.


Gates time area is Seoul lake (unity reservoir) scenic spot at the southern end of the main entrance. Here is located in the han ChangAnCheng are south gate - Ann of the position of the door, gates is one of ChangAnCheng symbol, in order to show the strength of the han dynasty, named "gates time".


Gates time area planning will master to gates as the center, things symmetrical buildings, reveal the big fellow building tension, to show the big fellow the powerful atmosphere. We see that there are two HanJue, gates double que height 13.6 meters. This building in han dynasty mainly embodies the dignity and order of merit, mainly for the palace, sacrifice to place.


In the gates of double positive will establish hangaozu liu bang large-scale sculpture, show hangaozu liu bang started the big fellow inheritance of great history. The han dynasty is founded by liu bang, hangaozu liu bang, the word season, FengYi ZhongYang seasonable county (today jiangsu FengXian) people, born a peasant family, ChenSheng reverse qin uprising, liu bang response, who calls himself "seasonable public," qin dead after being seal are for. Before 206, liu bang xianyang scored, and against the world and xiang yu, after four years of ChuHanZhiZheng, xiang yu defeat. In 202 BC, establish the han dynasty, han dynasty as the founding emperor, customary for great great grandfather, history says hangaozu, TaiZu high emperor or han GaoDi.


A lot of people read liu bang "wind song" : "wind up xi clouds float in the sky, neville and within the four seas xi to hometown, Ann have to brave warrior xi keep four party! Aka, full of daring. Note the bosom of the broad, ambition. He clears to han unity of the Chinese nation, China's unity powerful, the protection of the han culture develop have decisive contribution.


The han dynasty is the second Chinese han dynasty, is China's feudal society's most powerful, the most fertile one of the dynasty, the period when China has been the world powers in the face of stand erect in the world.


Han, become China the Chinese nation is the name of the forever. Han Chinese, Chinese characters, Chinese, history of the han dynasty, han, han calendar... How much we han identification property title since the beginning. Now here is the entrance of the lake in Seoul, Italy combine with modern civilization and cultural history association, inspire us create civilization heyday.